Albert Lea water tower in Tank of the Year contest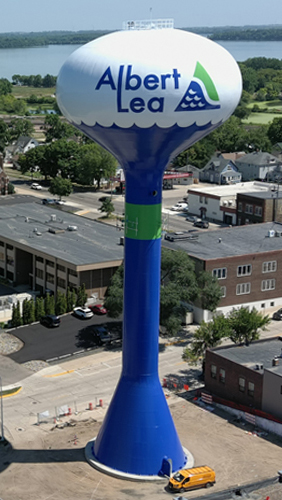 The new downtown water tower in Albert Lea is in the running for Tank of the Year, a contest held by Tnemec, a Kansas City company that specializes in protecting surfaces and structures from corrosion with high-performance coatings and linings.
The company has held the contest since 2006 to celebrate the innovative and creative uses of its coatings on tanks across the U.S. and Canada.
Community members may vote for the People's Choice award by going to the Tnemec website at https://tnemec.com/tank-of-the-year-2023/, clicking "vote" on their favorite tank, and providing their name and email address. Voting closes Friday, Oct. 13.
A Tnemec committee of water tank enthusiasts will choose 11 other finalists and consider them along with the People's Choice to decide the official Tank of the Year. The People's Choice winner will be announced Oct. 16.
The new Albert Lea tower replaces one built in 1938 and holds 1 million gallons of water. At 200 feet tall – 20 stories – it stands about 65 feet higher than the original tower. It went into operation in September 2023 and helps the city meet a federal requirement of maintaining a sufficient water supply as well as providing fire protection.