Utilities Department
The Utilities Department is dedicated to ensuring a reliable and efficient water, sewer, and stormwater infrastructure for the City of Albert Lea.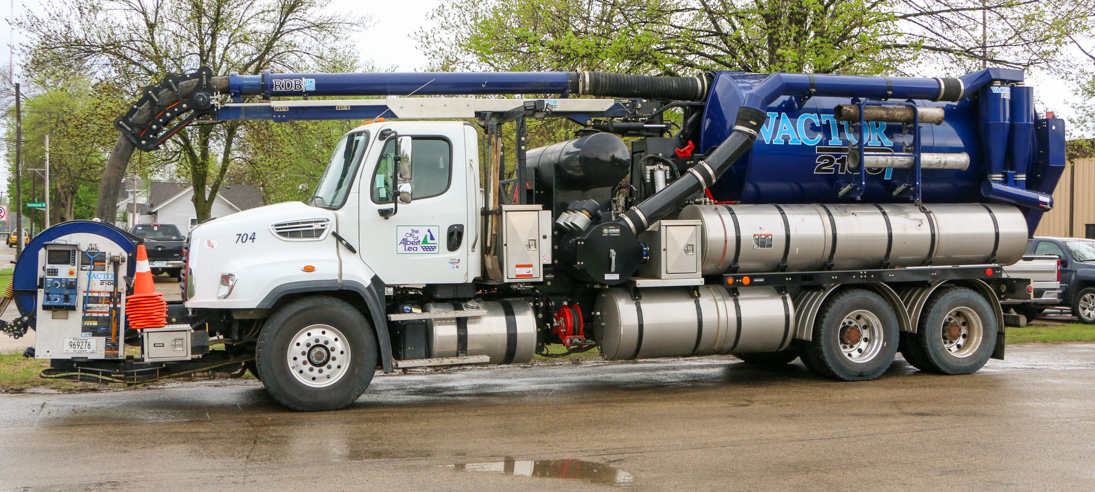 Our maintenance efforts cover an extensive network including:
27 lift stations
133 miles of water main
1,230 fire hydrants
7,300 water meters
5 water towers:

3 holding 300,000 gallons each
1 holding 500,000 gallons
1 holding 1 million gallons

4 wells, each 300' deep
57 miles of storm sewer
1,916 storm sewer inlets
4 storm sewer pumping stations
127 miles of sanitary sewer
23 sanitary sewer pumping stations
2,440 manholes
Drinking water:
The Utilities Department ensures the safety and quality of drinking water by collaborating closely with the Minnesota Department of Health to regularly test for over 100 contaminants. For detailed information, please refer to our latest drinking water report, which includes resources on copper and lead contamination.
Did you know?
Did you know that we erected the tallest water tower in our city at an impressive height of 195 feet? Located at the corner of Fountain Street and Newton Avenue, the central water tower was recently reconstructed to meet the federal requirement for maintaining enough water supply for 24 hours in case of emergencies like power outages.
Businesses also need a certain level of water on hand – in case of fire – to keep their insurance premiums lower. And the city needed more water pressure for local industries and future expansion. To learn more about this project, read the story at the following link: New water tower in operation.
Water usage is a vital aspect of our daily lives, and we strive to meet the demands of our community. Here are some interesting facts about water consumption in Albert Lea:
Average daily use: 3,500,000 gallons
Highest recorded usage in a single day: 6,347,000 gallons
Highest recorded usage in a month: 139,735,000 gallons
Highest recorded usage in a year: 1,331,395,000 gallons
FAQ's:
Who should I call if I encounter a water main break or experience a sewer backup?

During normal operating hours (Monday-Friday, 7 a.m. to 4 p.m.), please call the City Utilities Department at 507-377-4377.
Outside of operating hours, please call the non-emergency dispatch number at 507-377-5780

How do I arrange for repairs to my water or sewer line under the Utility Protection Program?

Call Service Line Warranties of America (SLWA) FIRST at 833-397-0071 to schedule a service call.
SLWA will assign and dispatch a local, licensed contractor right to your home to handle all covered repairs.
SLWA answers calls 24 hours a day every day of the year.
Calling a plumber before SLWA may void the protection plan and delay the repair.