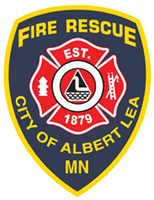 FOR IMMEDIATE RELEASE
Jan. 18, 2023
Contact: Jeff Laskowske, deputy fire chief, 507-377-4341 or
[email protected]
No injuries reported in fire at cold-storage warehouse
No injuries were reported in a roof fire at Vortex Cold Storage, 311 14th St. East, Albert Lea, on Tuesday afternoon. Albert Lea Fire Rescue and Police Department were dispatched at 1:30 p.m. Jan. 17 to the warehouse facility. Upon arrival, fire crews learned from Vortex personnel that a small area of the roof, which was under repair, was on fire.
Once on the roof, fire crews, with the help of the roof repair company on site, gained access to insulation that was burning. Firefighters were on scene for about one hour, removing the smoldering insulation and extinguishing the fire.
Albert Lea Fire Rescue determined that the insulation caught fire due to the contractor heating the roof in order to repair the leaks.
Damages are estimated at $20,000 and 600 square feet of roof.
#
The mission of Albert Lea Fire Rescue is to provide professional and proactive responsive assistance to enhance the quality of life for current and future generations.