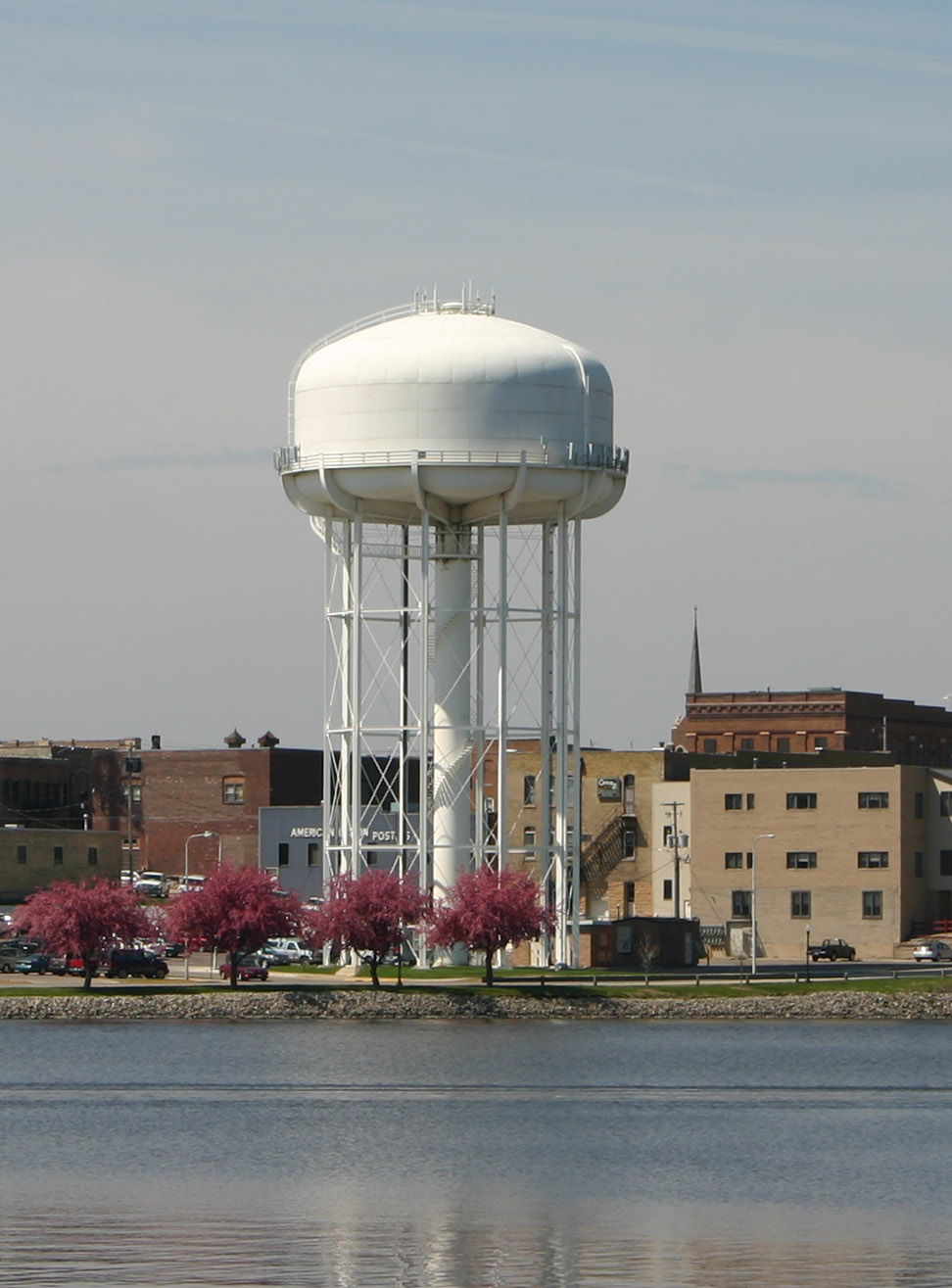 Central water tower as photographed in 2005
The Many Water Towers of Albert Lea
The City of Albert Lea's central water tower is located near the intersection of Newton Avenue and Fountain Street, south of Fountain Lake. The water tower was constructed from 1938 to 1939 through the Public Works Administration (PWA). It is best described as a steel radial cone elevated water tank.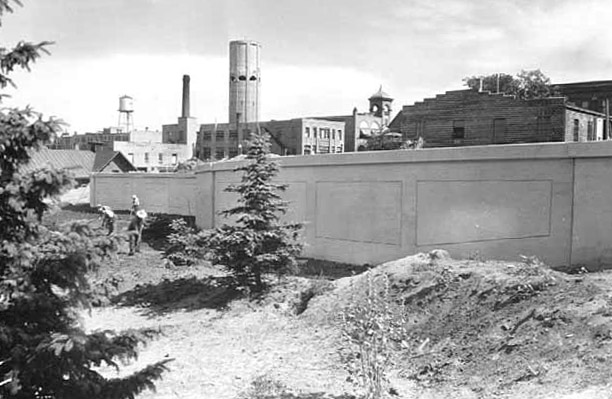 View southeast from within Fountain Lake Park showing WPA retaining wall construction with the circa 1920s water tower seen in background (MnHS Online Collections).
Not of water tower construction, but WPA workers in Albert Lea.
The PWA was created by the National Industrial Recovery Act of 1933 as one of the many relief programs enacted by President Franklin D. Roosevelt known collectively as the New Deal, which was a direct response to the Great Depression. From 1933 to 1939, dozens of agencies and programs were created by various laws and executive orders to provide emergency relief to Americans in need. Numerous programs existed to provide work for the 20 percent of Americans that were unemployed with wide-ranging job opportunities, including those related to public infrastructure, outdoor recreation, the arts, agriculture, and historic records inventories, to name a few.
The PWA is largely shadowed by more commonly known programs of the New Deal era, such as the Works Progress Administration (WPA), later renamed the Work Projects Administration, and the Civilian Conservation Corps (CCC). The WPA, founded in 1935, was the largest of the public works programs and involved the broadest range of projects to hire a large workforce of unemployed individuals. The CCC, founded in 1933, conducted work largely in parklands and in rural areas, and was staffed by unemployed and unskilled young men. Programs such as the PWA, founded in 1933, administered grants to state and local governments to hire private contractors for large-scale, state-proposed projects to increase demand for labor and construction goods.
This 1938 central water tower was not the City's first water storage structure: it was actually one of many within downtown Albert Lea. Built in 1920 and demolished in 1961, the "Lighthouse on the Prairie," as it was colloquially known, is best defined as a concrete water tower atop a concrete reservoir tank. An article from 1921 notes an elevated steel tank was present in this location prior to the construction of the concrete reservoir and tower.
The new 1,000,000 capacity water tower in downtown Albert Lea represents the fourth such water storage structure in this location within the City. This begs the question: Why? There are numerous factors at play that have led to this trajectory through time, and they are tied to engineering innovations, population increase, and public health and safety considerations.
Water towers need to be tall to provide sufficient hydrostatic pressure to deliver the water to the buildings that need it. The taller the tower, the greater the amount of pressure it can provide. Typically, a hydrostatic pressure between 50 and 60 psi is recommended for a municipal water system. Each foot of such a tower's height can provide a little less than half a pound of pressure per square inch.
The City of Albert Lea has four water towers. The new tower will replace the existing downtown tower. The overflow water level of the new tower will match the elevation of the other water towers. This will allow the City to have one hydraulic grade line or pressure for the entire community. Having a single pressure zone allows for a uniform set of design criteria which improves reliability and efficiency of the system.
A 2020 architectural history study recommended that the City of Albert Lea's central water tower was not eligible for listing on the National Register of Historic Places (NRHP) because it does not meet NRHP significance criteria, nor does it meet criteria within the context of federal relief construction in Minnesota. The Minnesota State Historic Preservation Office (SHPO) concurred with this recommendation.
While few people stop to think about their local water towers, water towers can be a tall testament to local, regional, and national changes through time. Albert Lea's central water tower tells a story about a growing southern Minnesota city, technological and engineering advances, and the nation's response to the Great Depression.
References:
Anderson, Rolf T.
1991 "Federal Relief Construction in Minnesota, 1933-1941." National Register of Historic Places Multiple Property Documentation Form. U.S. Department of the Interior, National Park Service. Electronic document, https://npgallery.nps.gov/GetAsset/0f6651f7-4cb5-4324-b015-53c82c6a97f2, accessed August 2020.
Great Lakes – Upper Mississippi River Board of State and Provincial Public Health and Environmental Managers
2018 Recommended Standards for Water Works. Health Research Inc. Illinois, Indiana, Iowa, Michigan, Minnesota, Missouri, New York, Ohio, Ontario, Pennsylvania, Wisconsin.
Ladwig, Jammi
2020 Architectural History Investigation for the Central Water Tower Replacement Project, City of Albert Lea, Freeborn County, Minnesota. On file at SHPO.
The Living New Deal
2020 "Projects in Minnesota." Department of Geography, University of California Berkeley. Electronic document, https://livingnewdeal.org/minnesota/, accessed August 2020.
Miller, Arthur P. (as summarized by)
1940 "Improvements of the Water Works at Albert Lea, Minn." In Abstract of Water Work Literature. American Water Works Association Journal 32(8):1415. Originally reported in American City Vol. 54(12):54, published December 1939 by anonymous author.
Sommer, Barbara W.
2008 Hard Work and a Good Deal: the Civilian Conservation Corps in Minnesota. Minnesota Historical Society Press, St. Paul.
Von Mehren, S.
1921 New Reinforced Concrete Water Tower, Reservoir and Centrifugal Pumping Plant for the City of Albert Lea, Minn. Municipal and County Engineering 60(1):27-31.