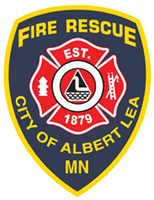 FOR IMMEDIATE RELEASE
Oct. 23, 2023
Contact for fire operations: Deputy Fire Chief Jeff Laskowske at 507-377-4311
Contact for fire investigation during business hours: Albert Lea Fire Rescue at 507-377-4341
No injuries reported in Albert Lea shed fire this morning
No injuries were reported in a fire this morning in a small building next to the Elbow Room at 310 E. Eighth St in Albert Lea. Upon arrival, Albert Lea Fire Rescue attacked the fire and found that the shed was a small cooler used by the restaurant, along with a large tote full of used oil that had melted and was burning. Fire crews quickly extinguished the fire and began putting out hot spots.
The fire was contained to the small building with no damage to the restaurant. The cause of the fire stemmed from an extension cord being used to operate the cooler, according to Albert Lea Fire Rescue. Damages are estimated at $6,000.
Albert Lea Fire Rescue would like to remind everyone that extension cords are for temporary use only.
#
The mission of Albert Lea Fire Rescue is to provide professional proactive responsive assistance to enhance the quality of life for current and future generations.