Feb. 25, 2022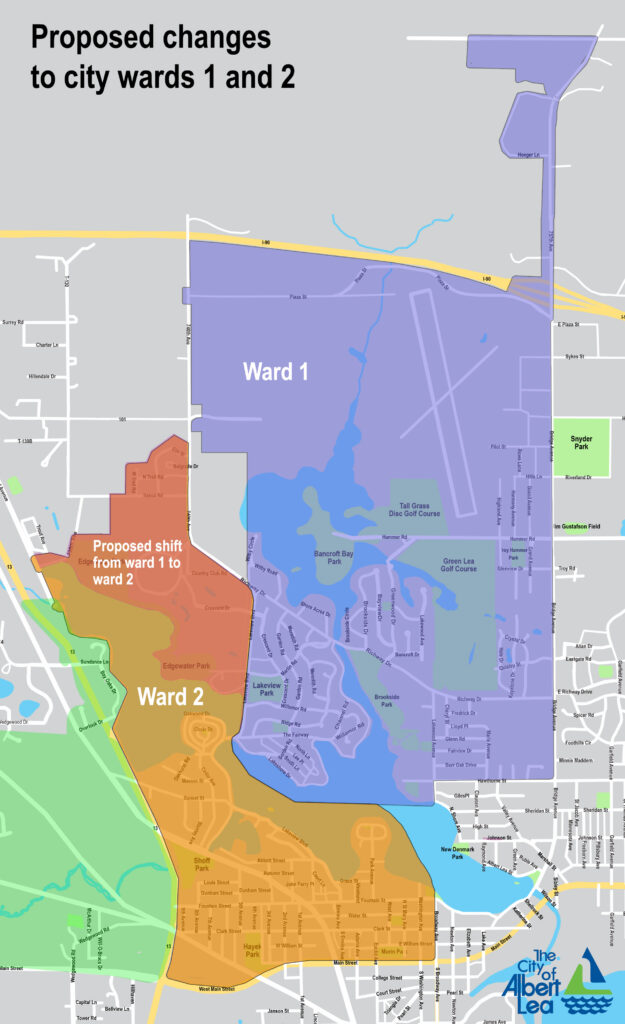 Due to bringing in new areas and growing in population, the City of Albert Lea is redistricting its council wards for the first time since 1992. To assure equal representation for elected offices, City Clerk Daphney Maras is recommending that some voters shift from Ward 1 in northern Albert Lea to Ward 2 in the more central part of the city (see map at right).
This shift would result in the term for the Ward 1 city council seat, now held by Rich Murray, ending two years sooner than scheduled. Each city council term is four years, and the terms are staggered to prevent all seven seats from being up for election at the same time. Without redistricting, Murray would serve through 2024. The Ward 1 councilor elected this year will serve two years, and then the term will return to four years the next election.
If the proposal is approved, then Albert Lea voters will elect city councilors for Ward 1 plus the four seats with terms ending this year:
Mayor (incumbent is Vern Rasmussen, Jr.)
Ward 2 (incumbent is Larry Baker)
Ward 4 (incumbent is Reid Olson)
Ward 6 (incumbent is Al "Minnow" Brooks)
"In looking at how to adjust the city council wards, our main goal was to achieve the least disruption for voters. This proposal affects only two of six wards and results in only one term ending early due to redistricting," Maras said.
Filings for elected offices in Minnesota will open May 17 and close May 31 with primaries Aug. 9 and the general election Nov. 8.
Redistricting is the process of redrawing the boundaries of election districts to ensure that the people of each district are equally represented. Local, state and federal government units consider redistricting for elected offices after the U.S. Census every 10 years.
In Minnesota, city councils are responsible for redistricting city wards. Redistricting is on the agenda for the Albert Lea City Council work session Feb. 28. The session starts at 5:30 p.m. at City Center (221 E. Clark St.) and is open to the public. The council is scheduled to vote on adopting a redistricting plan at its March 14 meeting.
Because city council wards make up some Freeborn County commissioner districts, changes at the city level will lead to changes at the county level. After the council votes to adopt the city's redistricting plan, the Freeborn County Board will decide on adjusting commissioner districts.
Once the city and county adopt new election districts, the State of Minnesota will update its online polling place finder: https://pollfinder.sos.state.mn.us/.
Under the redistricting proposal, the polling place for Ward 1 would move from the Edgewater Park Pavilion to the Fairlane Building at the Freeborn County Fairgrounds. Due to space needs, the city is planning to move voting for Ward 5 from City Center to the National Guard Armory.