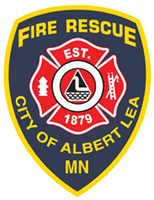 FOR IMMEDIATE RELEASE
Sept. 3, 2023
Contact for fire operations: Deputy Fire Chief Jeff Laskowske at 507-377-4311
Contact for fire investigation during business hours: Albert Lea Fire Rescue at 507-377-4341
No injuries reported in motorcycle fire in Albert Lea
No injuries were reported in a motorcycle fire early this morning in Albert Lea. At 3:37 a.m. Sept. 3, Albert Lea Fire Rescue was dispatched to a vehicle fire in front of 800 S. Fourth Ave. Upon arrival, firefighters found a motorcycle fully involved in flames with the fire impinging on a passenger vehicle. Fire crews extinguished the fire.
The Albert Lea Police Department also responded to the fire.
The cause of the fire remains under investigation by Albert Lea Fire Rescue and Police Department with the Minnesota State Fire Marshal contacted. The motorcycle was a total loss, estimated at $3,635, with minor damage to a passenger vehicle.
#
The mission of Albert Lea Fire Rescue is to provide professional proactive responsive assistance to enhance the quality of life for current and future generations.