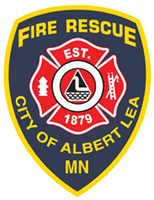 FOR IMMEDIATE RELEASE
July 28, 2023
Contact: Jeff Laskowske, deputy fire chief, 507-377-4341 or
[email protected]
No injuries reported in Albert Lea garage fire
No injuries were reported in a fire at 110 Ermina Ave. N., Albert Lea, Thursday afternoon. Albert Lea Fire Rescue was dispatched at 3:24 p.m. July 27 to the home, where crews found the detached garage engulfed in flames. They confirmed no one was inside the garage and the resident was standing outside the home.
Firefighters quickly extinguished the fire and remained on scene to put out hot spots.
The cause of the fire remains under investigation, according to Albert Lea Fire Rescue. Damages are estimated at $5,000.
The Albert Lea Police Department and Mayo Clinic Ambulance Service also responded to the fire.
#
The mission of Albert Lea Fire Rescue is to provide professional proactive responsive assistance to enhance the quality of life for current and future generations.