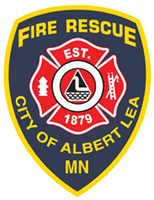 FOR IMMEDIATE RELEASE
Aug. 29, 2023
Contact for fire operations: Deputy Fire Chief Jeff Laskowske at 507-377-4311
Contact for fire investigation during business hours: Albert Lea Fire Rescue at 507-377-4341
No injuries reported in Albert Lea garage fire early this morning
No injuries were reported in a fire today at 702 Garfield Ave. Albert Lea Fire Rescue was dispatched at 1:10 a.m. Aug. 29 to the home, where crews found fire coming from the two-stall detached garage. Fire crews quickly extinguished the fire, and remained on scene for about an hour to put out hot spots.
The cause of the fire was a home-made oil lamp that tipped over as the owner was leaving the garage area, according to Albert Lea Fire Rescue. The garage and contents were a total loss, estimated at $22,000.
The Albert Lea Police Department and Mayo Clinic Ambulance Service also responded to the fire.
#
The mission of Albert Lea Fire Rescue is to provide professional proactive responsive assistance to enhance the quality of life for current and future generations.