For immediate release
June 3, 2023
Media contact: City Planner, Megan Boeck at [email protected] or 507-377-4349
Join the Planning Commission and shape the community's growth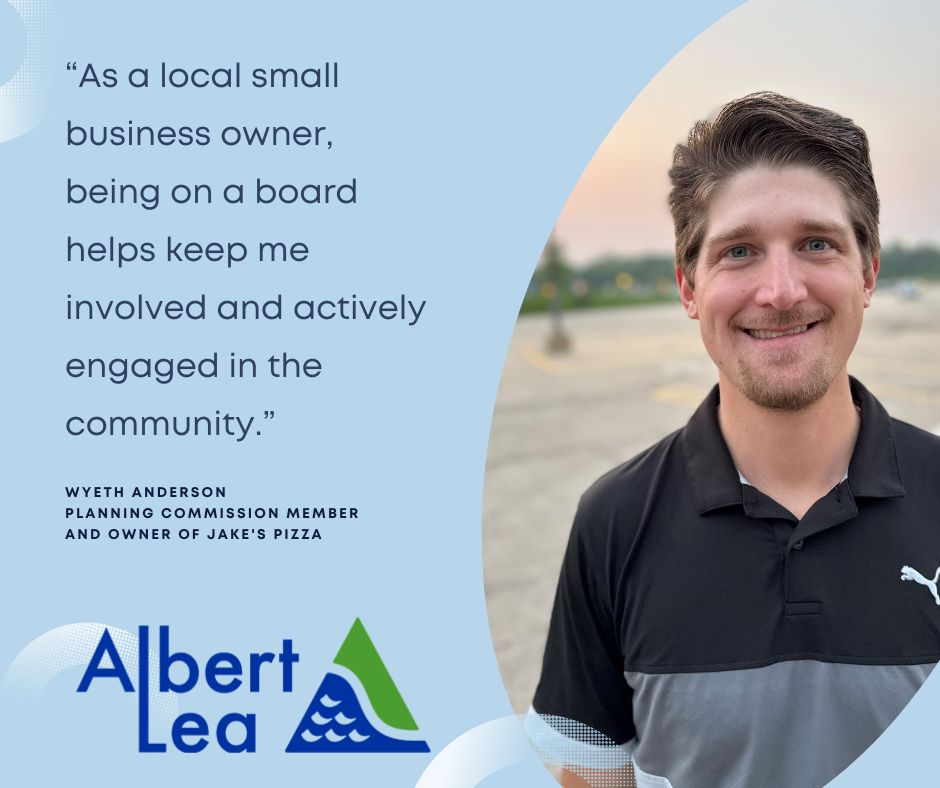 Serving on the Planning Commission is a great way to contribute to Albert Lea's growth and development.
The Planning Commission is responsible for implementing the vision of the recently updated comprehensive plan that guides how the community will grow. When receiving an application for land use, such as a housing development, the commission considers whether the application meets the plan as far as density, open spaces, commuter and pedestrian safety, and other factors.
For example, this commission will review housing proposals for the Blazing Star Landing before they go to the city council for final action.
The commission, consisting of seven volunteer members, also advises the Albert Lea City Council on zoning laws, certain use land permits and long-range planning.
City Planner Megan Boeck notes that the Planning Commission's job is not to make sure that the land is right for the proposed use, but to make sure that the proposed use is right for the land and what surrounds it. The commission advocates for the land and the city's overall health, safety and welfare in all land use applications. The members work to ensure land uses are developed in appropriate areas of the city, such as location of industrial parks and other commercial businesses.
Becoming a member of the Planning Commission provides a unique chance to shape the trajectory of Albert Lea, ensuring that growth and development align with the needs and goals of local residents. By participating in the decision-making process, members can make a difference, expand their networks and gain a deeper understanding of the community.
Wyeth Anderson, Planning Commission member and owner of Jake's Pizza in downtown Albert Lea, emphasizes the significance of local engagement.
"As a local small business owner, being on a board helps me stay involved and actively connected with the community," he said.
The Planning Commission currently has an open seat. To be eligible, applicants must be age 18 or older and live in Freeborn County, with preference given to Albert Lea residents. If interested in serving, complete the application on the city's website at cityofalbertlea.org/boards-and-commissions, and mail it to: City of Albert Lea, 221 E. Clark St., Albert Lea, MN 56007. The mayor will review the applications and make a recommendation to the city council for filling the vacancy.
The commission meets the first Tuesday of the month at 5:30 p.m., usually at City Hall, with the third Tuesday as an alternate date.
For more information, contact City Planner Megan Boeck at [email protected] or call 507-377-4349.
#
The City of Albert Lea's mission is to deliver exceptional services that enhance the quality of life for current and future generations.