Jacobson Building: Restored and ready for development
The Jacobson Building in downtown Albert Lea will mark its 100th birthday with its rare terra-cotta façade restored and new owners planning extensive redevelopment.
Called "Jacobson" after a long-time owner, the building was constructed at 211 S. Broadway Ave. by a jeweler named Henry Harm in 1883. Damaged by fire in 1922, he decided to renovate the two-story ruins into a new four-story building. His store would occupy the first floor, with residential apartments on the floors above. Construction, including the façade, started in 1923.
Almost a century later, some of the terra-cotta pieces started crumbling, prompting the City of Albert Lea, owner of the building since 1998, to pursue restoration. In 2022, the city accepted the low bid of $301,500 from Advanced Masonry Restoration of St. Paul, Minn., for the project.
The façade is made up of unique pieces that form ornate designs of flowers, faces and other motifs. Only two companies in the United States, one on each coast, still make such terra cotta pieces.
"These blocks are terra cotta, essentially pottery," said Wayne Sorensen, building official and zoning administrator for the City of Albert Lea. "They are each hand-made, fired and glazed. This process can take up to six months for proper manufacture and drying."
The contractor is replacing 75 pieces total and repairing several others.
"They are held in place by different systems of support steel – much replaced with stainless steel – and many literally held in by heavy, copper tie wires," Sorensen said.
After the contractor finishes the façade restoration, the entire building from top to bottom will be tuckpointed. A professional cleaning of the façade will be the final step, expected in late October.
"The façade will be in a true 'like-new' condition!" Sorensen said.
The interior will be getting a facelift, with a local investor group purchasing the Jacobson Building and the adjacent Freeborn Bank Building. The Albert Lea City Council approved a development agreement with Century Partners at its Oct. 9 meeting. The agreement includes preserving the façade. The new owners are planning restaurant and office spaces for the interior.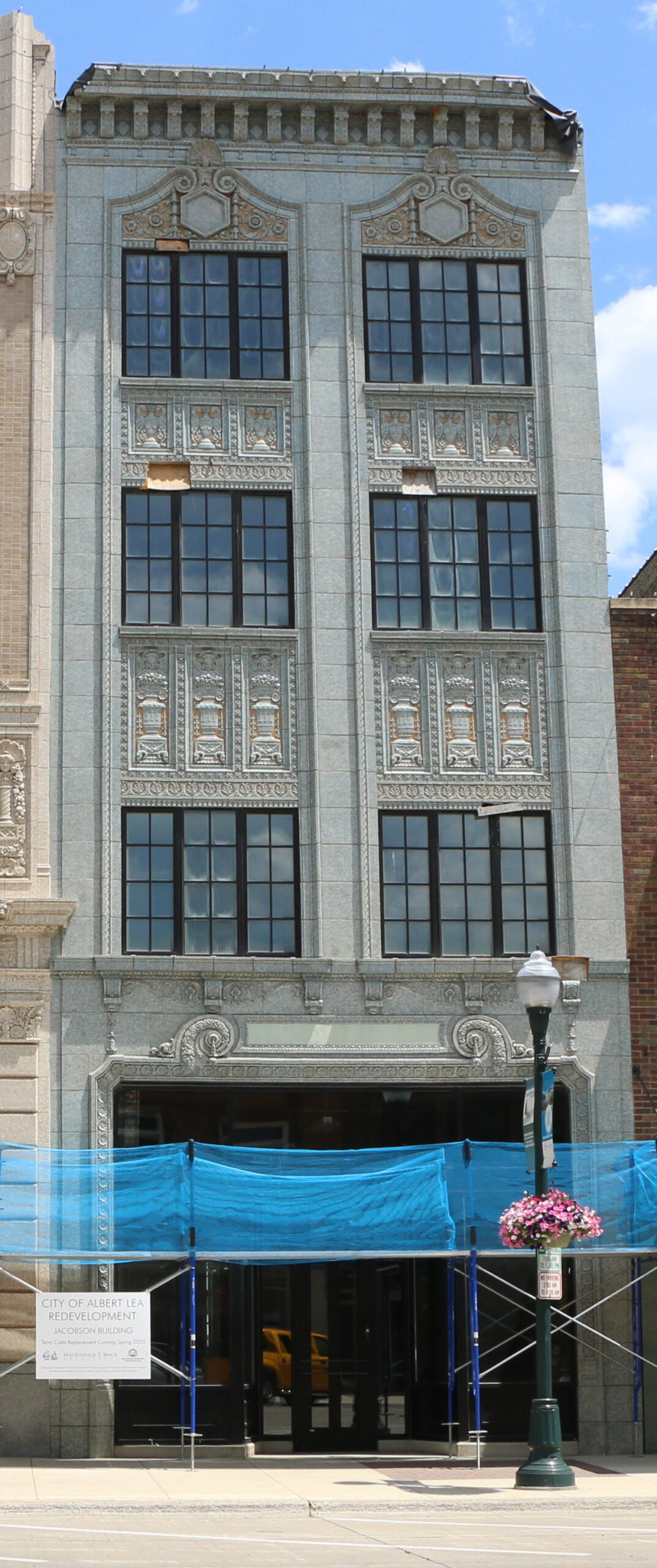 The Jacobson Building at 211 S. Broadway Ave. is ready for redevelopment in downtown Albert Lea.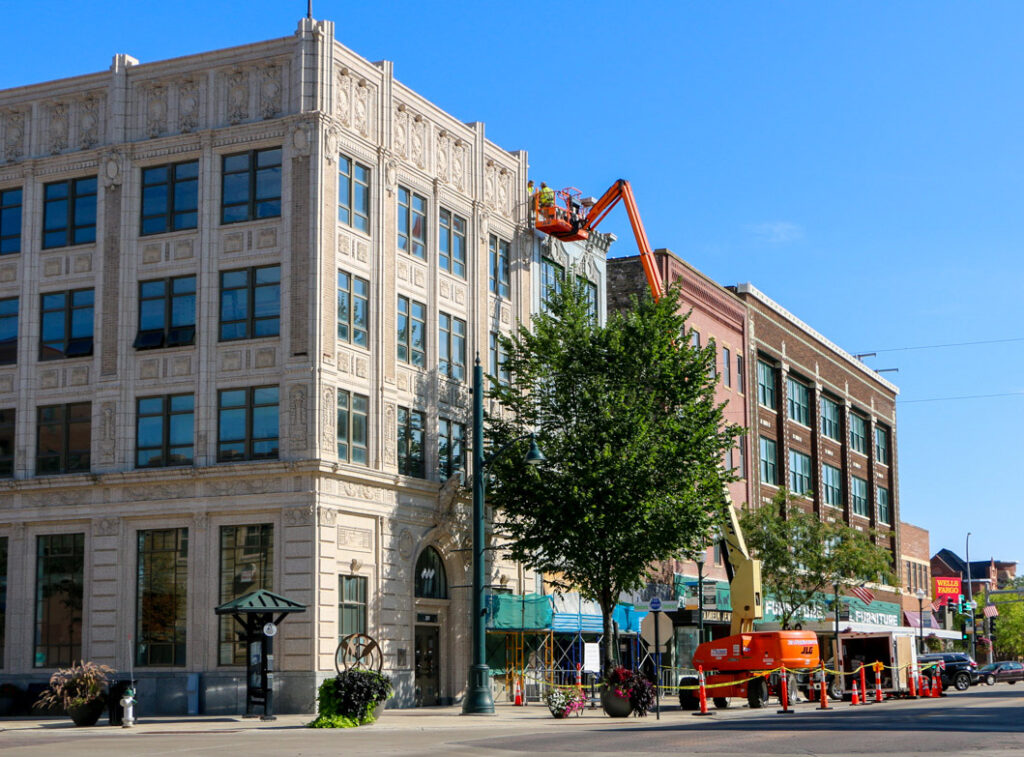 The rare façade of the 100-year-old Jacobson Building will be like new after a restoration project wraps up in fall 2023.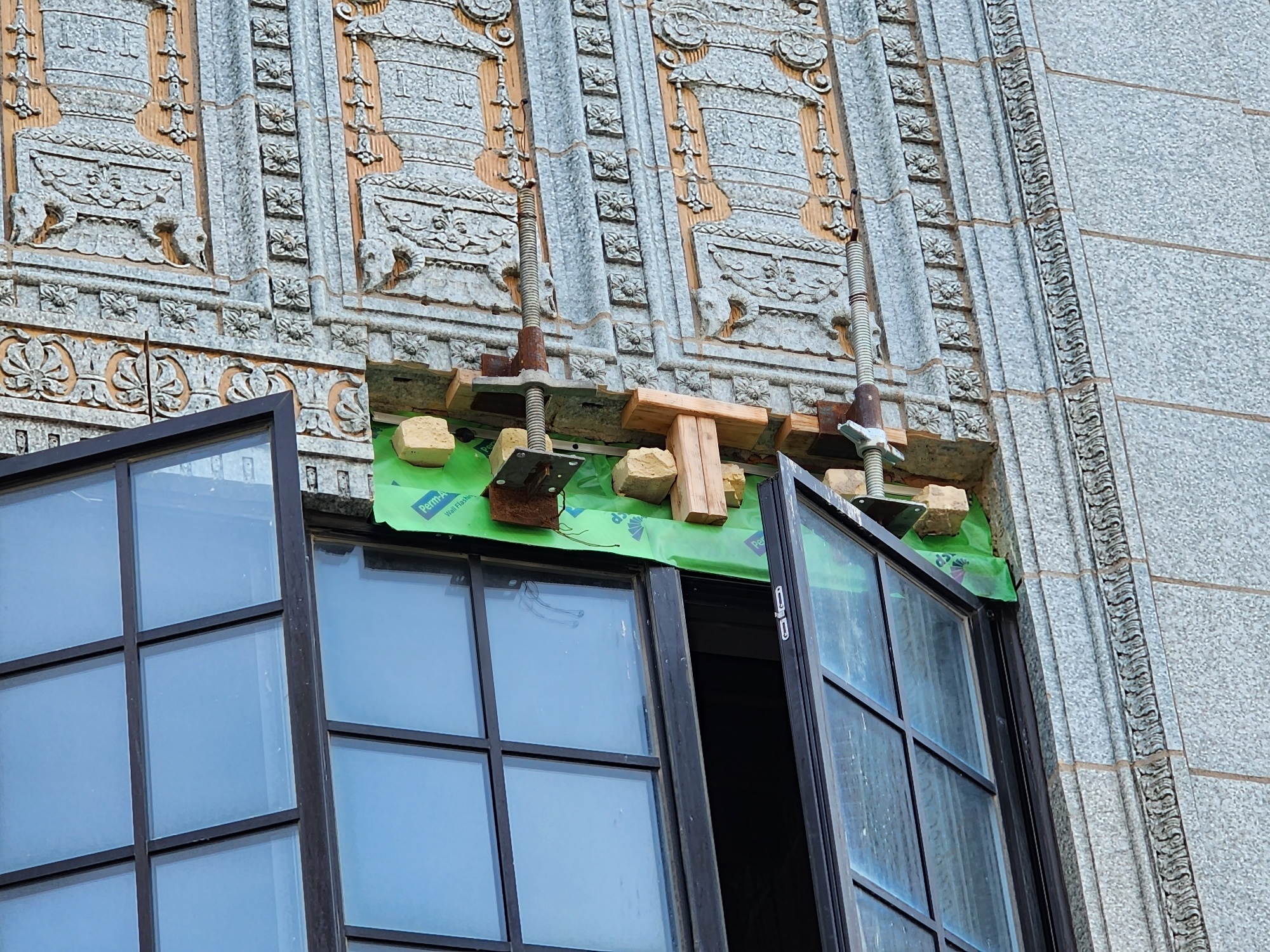 The restoration includes replicates of tiles that make up the flowers, lion heads and other motifs on the historic Jacobson Building.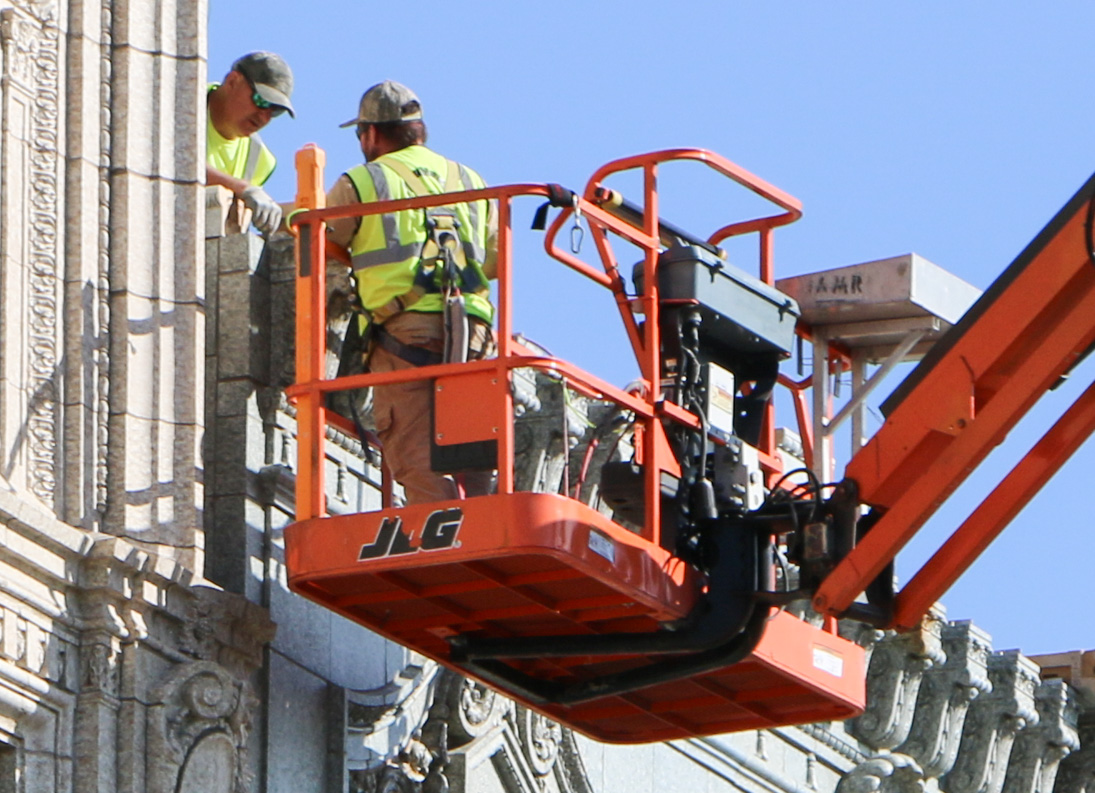 Workers with Advanced Masonry Restoration replace the cornice atop the Jacobson Building at 211 S. Broadway Ave. Each piece is unique in the building's facade.