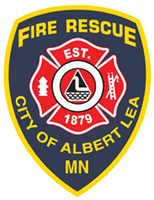 FOR IMMEDIATE RELEASE
July 1, 2023
Contact: Jeff Laskowske, deputy fire chief, 507-377-4341 or
[email protected]
No injuries reported in Albert Lea House Fire
No injuries were reported in a fire at 507 Commercial St., Albert Lea, Friday evening. Albert Lea Fire Rescue was dispatched at 8:21 p.m. June 30 to the home, where crews found fire coming from both levels of the house. They confirmed no one was inside the house.
Firefighters worked on scene for about 2 hours to extinguish the fire and hot spots. The fire started from cooking on the stove in the kitchen and then spread throughout the main level and to half of the second floor, according to Albert Lea Fire Rescue. Damages are estimated at $40,000.
The Albert Lea Police Department and Mayo Clinic Ambulance Service also responded to the fire.
#
The mission of Albert Lea Fire Rescue is to provide professional and proactive responsive assistance to enhance the quality of life for current and future generations.