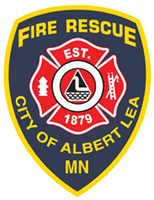 FOR IMMEDIATE RELEASE
Nov. 18, 2023
Contact for fire operations: Deputy Fire Chief Jeff Laskowske at 507-377-4311
Contact for fire investigation during business hours: Albert Lea Fire Rescue at 507-377-4341
Ductwork Fire
Albert Lea Fire Rescue responded to Jake's Pizza at 126 Clark St. W. Friday evening for fire coming out of the oven's exhaust fan. Upon arrival fire crews found fire coming from the fan and in the ductwork for the pizza oven inside the restaurant.  The owner had used a fire extinguisher on the fire prior to the fire crew's arrival and that assisted in slowing down the fire.
Crews worked on the scene for about an hour checking for fire extension outside the ductwork and verifying everything had cooled. Damages are estimated at $8,000. No injuries were reported.
#
The mission of Albert Lea Fire Rescue is to provide professional proactive responsive assistance to enhance the quality of life for current and future generations.