For release March 20, 2023
Media contact: Albert Lea Public Safety Director JD Carlson at 507-377-5665 or [email protected]
Albert Lea police report lowest crime rate in 5 years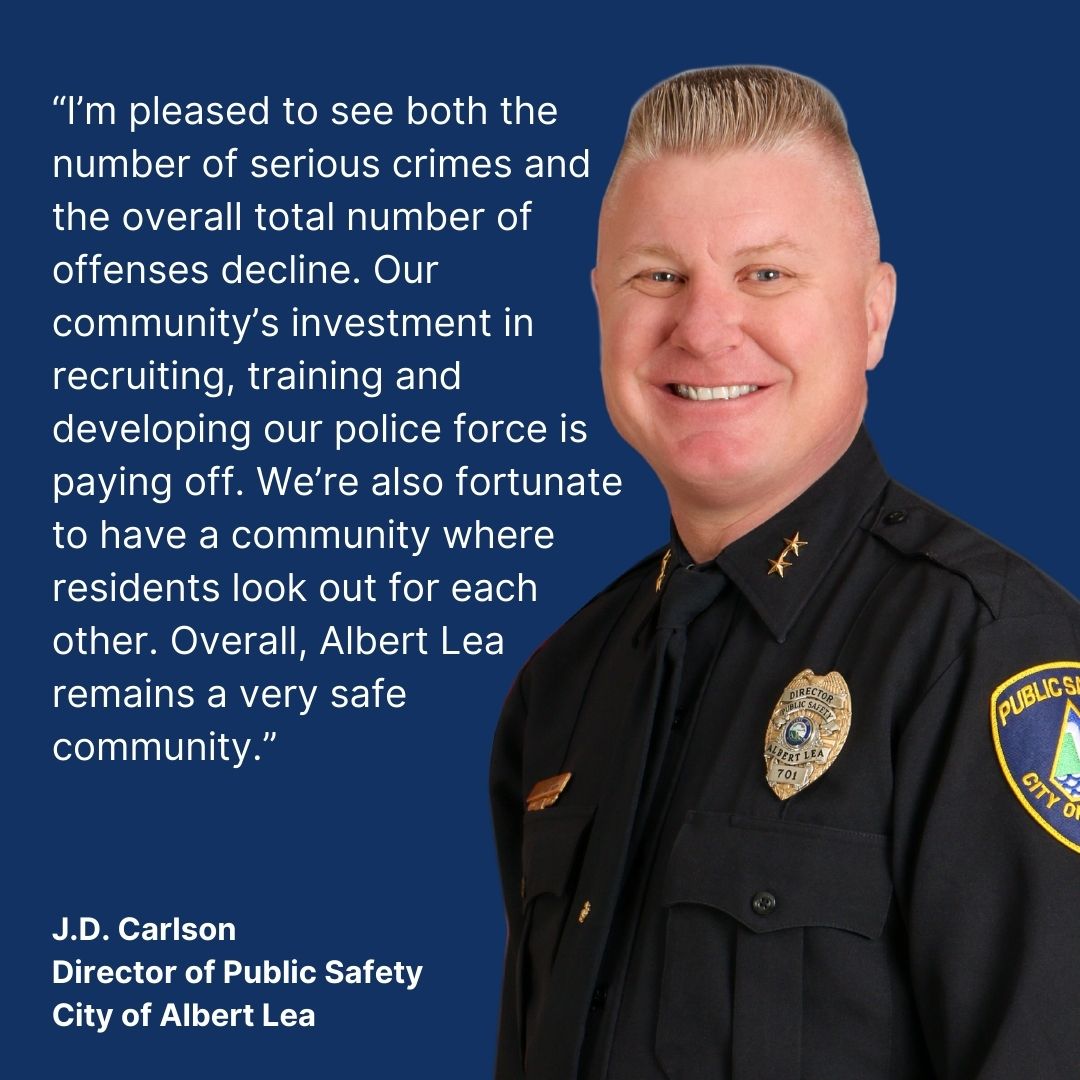 The Albert Lea Police Department reports that local crime continues to decrease, and in 2022 dropped to the lowest rate in 5 years, based on a statewide crime reporting system.
The most serious types of crimes decreased by 27.8 percent, from 485 offenses in 2021 to 352 in 2022. These types of crime include assault and larceny theft.
However, the number of less serious crimes did increase by 9.5 percent from 693 offenses total in 2021 to 766 in 2022. These types of crime include vandalism and drug violations.
Despite the increase in less serious offenses, the overall crime rate decreased with total offenses dropping by 5.1 percent, from 1,178 to 1,118, because of the significant decrease in more serious offenses.
"I'm pleased to see both the number of serious crimes and the overall total number of offenses decline. Our community's investment in recruiting, training and developing our police force is paying off," said JD Carlson, director of public safety. "We're also fortunate to have a community where residents look out for each other. Overall, Albert Lea remains a very safe community."
While less serious, crimes such as vandalism and drug abuse do impact the community. Carlson said everyone can help keep crime down by taking steps to prevent vandalism and theft, and supporting efforts to prevent drug abuse:
Vandalism remains the most-reported crime in Albert Lea. Crimes of opportunity, such as vehicle break-ins, are also common. Residents and businesses can help deter crime by locking their vehicles, not leaving valuables in vehicles, and parking vehicles inside garages or under streetlights. They should also install motion lights around their properties and call 911 if seeing anything suspicious.
Drug abuse plays a major role in many crimes, including domestic assault, burglary and theft. The Albert Lea Public Safety Department works with many partners to prevent drug abuse and offer treatment for offenders.
The table below shows the total numbers of offenses reported in Albert Lea and the difference from the previous year.
Albert Lea Crime Report
| | | |
| --- | --- | --- |
| Year | Total number of offenses | Difference from previous year |
| 2022 | 1118 | 5.1% lower |
| 2021 | 1178 | 4.7% lower |
| 2020 | 1236 | 0.6% lower |
| 2019 | 1229 | 9.73% higher |
| 2018 | 1120 | 4.87% higher |
#
The Albert Lea Police Department mission is to enhance the quality of life in Albert Lea by providing excellent public safety services through leadership, integrity, and in collaborative partnerships with our community.