For release March 10, 2023
Media contact: Albert Lea City Planner Megan Boeck at 507-377-4349 or [email protected]
Albert Lea 2040: City plans for growing in people, jobs, housing and amenities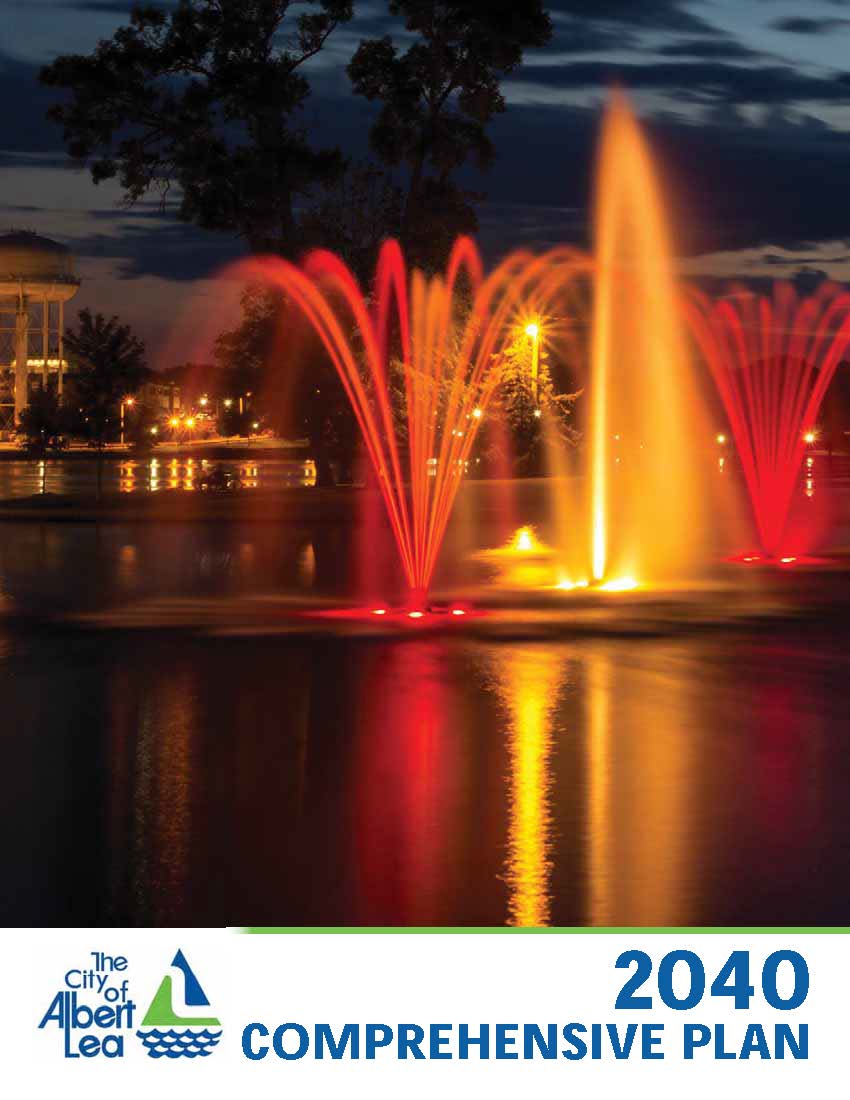 The City of Albert Lea – already facing a shortage of workers and housing options – is ready to adopt a long-range plan to guide future growth and development. The Albert Lea City Council will vote on an update to the community's Comprehensive Plan at its meeting March 13.
Based on extensive public input, the plan presents a vision for 2040 that encompasses all aspects of local government – economic development, housing, transportation and recreation – and actions to make that vision a reality.
"This plan will impact every Albert Lean's quality of life, including how and where they live, work and recreate," said City Planner Megan Boeck.
Residents can access the full plan on the city's website: https://cityofalbertlea.org/comprehensive-plan. They're also welcome to attend the council meeting at 7 p.m. Monday on the top floor of City Hall at 221 E. Clark St. or watch the meeting on ALTV at https://bit.ly/Albert-Lea-TV.
With the Comprehensive Plan update, Albert Lea can anticipate and prepare for change. This plan will guide the future development of land, allow other agencies to coordinate their actions with the plan, provide a legal basis for zoning and other regulations, and engage the public in local decisions.
Once the council adopts the plan, the city will use it to set priorities and budgets, update policies, and make changes to meet the goals in the plan.
For example, the city will consider extending water and sewer services in the future to prepare for potential:
Housing along State Highway 13 in the northwest part of the city
Industry and some housing along I-90 and I-35 in the northeast
Industry along State Highway 65 and along 14th Street in the southeast
Housing near U.S. Highway 69 in the southwest
The city may also consider changing its zoning and policies to allow for more housing downtown and for higher-density housing such as smaller homes on smaller lots and perhaps even tiny homes.
The council vote will conclude an 18-month process to update the Comprehensive Plan, last updated in 2008. The recent update identified the following.
Albert Lea needs to build on its strengths in order to maintain and grow its population and economy:
Residents citied the local quality of life, location, cost of living, and close-knit and engaged community as their reasons for living here.
They're excited by outdoor recreation and opportunities for growth, especially downtown.
Recreation is a major amenity and used often.
While the vast majority of people drive alone to work or school, recreational biking and walking are big draws.
Albert Lea does face several challenges, but can meet them by implementing the plan to:
Grow its housing and business options.
Increase the number of local workers to fill existing and future jobs.
Combat negative perceptions of the community.
The recent update is the latest in a history of planning for Albert Lea. The city first adopted a Comprehensive Plan in 1948. In addition to past City, Freeborn County and Shell Rock River Watershed District plans, the 2023 update is based on extensive public input:
25 residents, from all walks of life, served on the Steering Committee that met five times for a total of 15 hours.
1,300 residents, including Albert Lea High School juniors and seniors, took the survey.
Even children chimed in, naming their favorite places in Albert Lea, during Cinco de Mayo.
Additional targeted outreach included the Albert Lea Economic Development Agency Board, Karen community and Trailside Apartment residents.
The Albert Lea Planning Commission held a public hearing Feb. 7 on the plan.
#