How to 'blue zones' in February: Belong by volunteering, attending event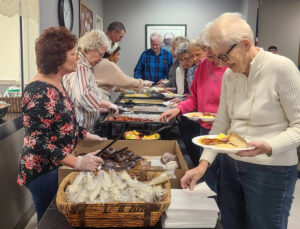 As Valentine's Day approaches, this is an ideal time for people to consider their sense of belonging beyond a romantic relationship.
A sense of belonging is a key component of well-being, affecting both mental and physical health, according to several studies and medical experts.
"We cannot separate the importance of a sense of belonging from our physical and mental health. The social ties that accompany a sense of belonging are a protective factor helping manage stress and other behavioral issues. When we feel we have support and are not alone, we are more resilient, often coping more effectively with difficult times in our lives," according to "Is having a sense of belonging important?" on the Mayo Clinic Health System website.
In his book, "The Blue Zones," Dan Buettner cites many studies on how belonging to a spiritual community can extend life expectancy, improve a person's immune system, and decrease rates of cardiovascular disease, depression, stress and suicide. He recommends three strategies to cultivate a sense of belonging:
Be more involved in your church or faith community, if already belonging to one.
Explore a new tradition, if not already a member of a faith community. Try a new church or other spiritual organization.
Just go. Schedule an hour a week for the next eight weeks to attend religious services, and do so with an open mind.
If not already a member of a spiritual community, then ask family and friends for suggestions. Or search for "Albert Lea churches" online and a list of more than 30 should pop up.
Beyond participating in a spiritual community, here are a few recommendations for people of all ages to cultivate a sense of belonging in Albert Lea.
Invite a relative, friend or neighbor to an event:
Big Freeze events Saturday, Feb. 11, including a pancake breakfast at the Moose Lodge, 1623 West Main St., from 7 – 11 a.m.; chili cook-off and bake sale at the Edgewater Bay Pavilion, 1940 Edgewater Drive, from noon – 2 p.m.; or the Buff Bash at the 112 on Broadway, starting at 7:30 p.m.
Valentine's Skate Sunday, Feb. 12, from 4:30 – 6:30 p.m., at the City Arena, 701 Lake Chapeau Drive. Cost is $5 per skater and includes skate rental and refreshments.
Family Night on Ice Tuesday, Feb. 14, from 5 – 7 p.m., Lakeview, Park, 102 Willamor Road. No charge for skate rental, hot cocoa and cookies.
Candlelight Walk on Saturday, Feb. 18, at Myre-Big Island State Park, 19499 780th Ave., from 6 – 9 p.m. In fact, enjoy the park all day because it's a free day for all Minnesota state parks.
Join a group on your own:
Volunteer with:
Coming next month:
Learn how putting loves one first can lead to better health.