Albert Lea summer to sizzle with fun
What do Willy Wonka, a magician, best-selling authors and a Tex-Mex band all have in common? They're all coming to Albert Lea in the next few months!
The event season in Albert Lea opens May 5 with Cinco de Mayo in the North Broadway parking lot, where Los Rebeldes, a Tex-Mex band will perform. The event will run 11 a.m.-8 p.m. with food and drinks throughout, and kids' activities and craft sales from 4-6 p.m.
The fun continues all summer with live music, children's programs and a full menu of events, including the return of Wind Down Wednesday.
While many anglers will hit local lakes for the fishing opener May 14, Albert Lea will also host a shopping opener with a chance to win a prize.
Starting May 18, find fresh produce and more at the Farmers' Market in the North Broadway parking lot, every Wednesday, from 3:30 – 5:30 p.m., and Saturday, from 9 a.m.-noon. New this year will be family-friendly events at The Little Red Shed during the Farmers' Market in the area near the Splash Pad.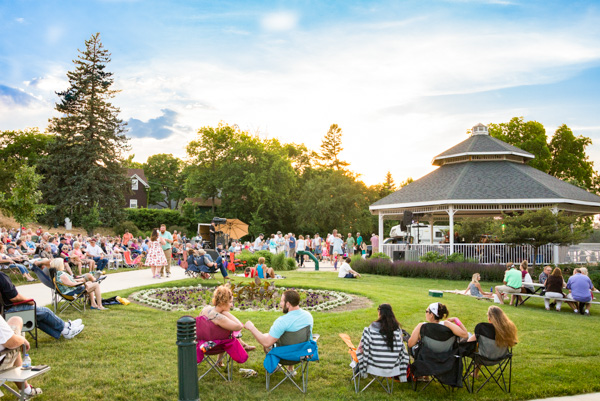 Thursdays on Fountain entertains every Thursday from
5:30-7 p.m. at Fountain Lake Park on North Broadway Avenue
from May 26 through Aug. 25.
Thursdays on Fountain, a free concert series, will kick off May 26  from 5:30- 7 p.m. and continue through August at Fountain Lake Park, at the north end of Broadway Avenue downtown. All are welcome with food and refreshments available. Bring a lawn chair if attending by land. Bring an anchor if attending by boat.
The Albert Lea Aquatic Center will be open June 4 – Aug. 14. Play parks, with plenty of free activities for kids age 7-12, will open June 6.
Also that day, the Albert Lea Public Library will open its summer reading program, "Oceans of Possibilities." The library is packing the summer with programs for all ages, including Greg the Great, a magician who will awe children and their parents June 30 at Fountain Lake Park at the north end of Broadway.
The library will also host two best-selling authors from Minnesota in May and June. Allen Eskens, author of "The Stolen Hours," will speak May 24 and Brian Freeman, author of "The Deep, Deep Snow," will speak July 8. Both events start at 6 p.m. and will be held at St. John's on Fountain Lake, 1861 Eagle View Circle.
Albert Lea Community Theatre will present "Willy Wonka," a delicious musical based on the book, "Charlie and the Chocolate Factory," June 16-19 and June 22-26 at the Marion Ross Performing Arts Center, 147 N. Broadway.
After a Covid pause, the popular Wind Down Wednesday series returns to downtown on June 22, July 20 and Aug. 10. Look for food, music, crafts and fun for the whole family from 11 a.m.- 8 p.m.
The Albert Lea Senior Center at the Skyline Plaza, 1739 W. Main St., will continue to be open this summer, with regular programming and special events like the Spring BBQ on May 23 at 11 a.m.
A highlight of summer – the July Fourth celebration – actually starts July 3 in Albert Lea with the annual parade at 6 p.m. July Fourth brings the traditional car show downtown with fireworks over Fountain Lake at dusk.
For more information about summer fun in Albert Lea, visit https://tinyurl.com/summer-fun-guide or follow these accounts on Facebook: City of Albert Lea – City Hall, Albert Lea Recreation, Albert Lea Public Library and Albert Lea Senior Center.
#
The City of Albert Lea's mission is to deliver exceptional services that enhance the quality of life for current and future generations.