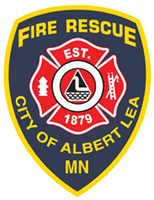 FOR IMMEDIATE RELEASE
Oct. 12, 2022
Contact: Jeff Laskowske, deputy fire chief, 507-377-4341 or
[email protected]
Albert Lea Fire Rescue: Practice fire drill tonight, attend open house Saturday
As part of Fire Prevention Week, Albert Lea Fire Rescue urges everyone to take part in Operation EDITH, which stands for Exit Drills In The Home. This annual fire drill will take place at 7 p.m. today, with civil defense sirens sounding. Take this time to practice your home escape plan in case of a fire.
The firefighters also invite everyone to their annual open house at the Albert Lea Fire Station, 417 S. Newton Ave., on Saturday, Oct. 15, from 10 a.m. – 1 p.m.
Activities will include:
Physical agility course for youth

Sparky trailer demonstrations

Dollhouse smoke and burn

Storytime

Water spray prop

Self-guided tours

Bouncy houses

Viewing of trucks
For more information and fire safety tips, follow "Albert Lea Fire Rescue" on Facebook.
#
The mission of Albert Lea Fire Rescue is to provide professional and proactive responsive assistance to enhance the quality of life for current and future generations.