Alcohol, Tobacco and Other Drugs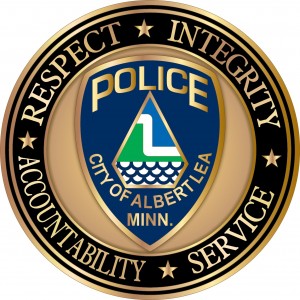 It is the intent of the Albert Lea Police Department to reduce the illegal use of alcohol, tobacco, and other drugs in Albert Lea through collaborative means, utilizing education and other enforcement.
Social Host Ordinance
The Social Host Ordinance prohibits and establishes penalties for any person hosting an event or gathering where alcohol is present and being possessed or consumed by persons less than twenty-one (21) years of age.
The City of Albert Lea intends to discourage underage possession and consumption of alcohol, even if done within the confines of a private residence, and intends to hold persons criminally responsible who host events or gatherings where persons under twenty-one years of age possess or consume alcohol regardless of whether the person hosting the event or gathering supplied the alcohol.  Events and gatherings held on private or public property where alcohol is possessed or consumed by persons under the age of twenty-one are harmful to those persons and constitute a potential threat to public health requiring prevention or abatement.  Furthermore, it is the intent to prohibit underage consumption acts to protect underage persons, as well as the general public, from injuries related to alcohol consumption, such as alcohol overdose or alcohol-related traffic collisions.
Alcohol is an addictive drug which, if used irresponsibly, could have drastic effects on those who use it as well as those who are affected by the actions of an irresponsible user.
Often, events or gatherings involving underage possession and consumption occur outside the presence of parents.  However, there are times when the parent(s) is/are present and, condone the activity, and in some circumstances provide the alcohol.  Even though giving or furnishing alcohol to an underage person is a crime, it is difficult to prove, and the ordinance is necessary to help further combat underage consumption.
A deterrent effect is created by holding a person criminally responsible for hosting an event or gathering where underage possession or consumption occurs.
Toward Zero Deaths
The Minnesota Toward Zero Deaths program is the state's cornerstone traffic safety program, employing an interdisciplinary approach to reducing traffic crashes, injuries, and deaths on Minnesota roads. While individual disciplines have a long history of successful traffic safety programs, TZD aims to tie these together with a common vision and mission for even greater success. The TZD program uses data to target areas for improvement and employ proven countermeasures.
The TZD program team works in partnership with community and corridor groups to improve the traffic safety of a designated area. Toward Zero Deaths provides technical assistance, materials, and guidance to local groups that are committed to reducing crashes and the fatalities and severe injuries that result from them.
Contact your TZD Law Enforcement Representative Lt. Jeff Strom at 507-377-5254 to receive information about programming opportunities, available resources, educational materials, and any of your traffic safety questions or needs, or visit: http://www.minnesotatzd.org/
Underage Access to Alcohol Server Training
The purpose of the Underage Access to Alcohol Server Training is to encourage liquor license holders to voluntarily undertake practices that will help avoid sales to underage buyers of alcoholic beverages.  The program requires 75 percent of servers must attend the Albert Lea Police Department's Underage Access to Alcohol Server Training within sixty days of hire.  A licensed establishment that participates in the program will be subject to a modified schedule of presumptive penalties in the event of a sale to an underage person.
Incentives offered to discourage sales to underage buyers:
All people who sell or deliver alcoholic beverages should check the identification of anyone who appears to be 40 years old or younger.  If a liquor licensee wishes to make this a requirement in its establishment, the City will provide notices to be posted.
In addition, The Albert Lea City Council wishes to encourage the individual who sell alcoholic beverages to check identification by providing a reward of $50 to a person who checks identification, discovers an underage person attempting to purchase alcoholic beverages and cooperates with the City in attempting to obtain a conviction.  The incident must be able to be verified by the police department.
With continued partnership and support of Freeborn County – Partners In Prevention, an updated compliance check video has been completed and available for use. It's intent is NOT to replace attending Server Training (Best Practices) – rather, to compliment and be readily available for alcohol & tobacco licensees routine training pre/post server training.
If you have any questions regarding the Underage Access to Alcohol Server Training program or scheduling a training, please contact Deputy Director J.D. Carlson at 507-377-5665.
Zero Adult Provider
Zero Adult Provider (ZAP) is a grant funded program for combating underage drinking and addressing adult providers. In March of 2005, the Albert Lea Police Department partnered with the Freeborn County Sheriff's Office, Judges, Prosecutors, Court Services, Public Health, schools and other community organizations to take a strong stance against underage drinking and to aggressively identify the adult provider. Through education, our goal is to raise public awareness on alcohol use among our youth and to change the community norm that exists regarding underage drinking in Freeborn County.
The progam was started due to a series of events that occurred in the spring of 2004. During that time, there were three fatalities involving young people. In two of those crashes, it is believed that alcohol was a contributing factor. We had just completed an audit conducted by the Battered Woman's Justice Project that took a look at our response to domestic violence. One of the project findings was the high number of cases where alcohol was involved. A recent Minnesota Student survey of Freeborn County high school seniors indicated that 54% of males and 67% of females had consumed alcohol at least once during the past 12 months. Armed with these facts, a coalition was formed and we applied for a $5,000 grant from the Minnesota Institute of Public Health. We were one of two counties, statewide, that were awarded funding for our project.
Our goal for this project is not only to raise public awareness through education and change the community norm, but to take a look at how the criminal justice system responds to underage drinking and to those who provide alcohol to minors. Our new approach is to combine manpower between the City and County and form a task force to address underage drinking. Through a mutual aid agreement, similar to our rural fire departments, we are able to send police officers out into the county to assist the sheriff's department to enforce underage drinking and adult provider violations. From March 1 through October 31, 2005, we arrested 290 minors for illegal consumption and identified 30 adult providers; compared to 217 minors arrested and 5 adult providers for the same period last year. Our new approach, along with stricter penalties from the Court, has seen a significant increase in illegal consumption and adult provider arrests. On May 31st, 2005, a task force of 19 law enforcement officers raided an underage drinking party near Geneva that resulted in 39 arrests for illegal consumption. Our new approach is making a difference, and we have received state and national recognition for the work we are doing. News articles about our project have circulated among professional circles. Ultimately, we hope to make Freeborn County a safer place to live.
Emergency – Dial 911
Non-Emergency (507) 377-5210     Animal Control (507) 377-5210