Aquatic Center

The Aquatic Center is now closed for the season. See you in 2022!
The City of Albert Lea's Aquatic Center features a zero depth splash pool with interactive play features for children including tumble buckets, deck sprays, a mushroom waterfall, bubblers, and a five arm water fountain. And best of all – don't miss the 226 foot water slide!!! For our patron's comfort, there are several large, colorful shade structures so that you can get out of the sun while you watch the kids play, or take a break from your trips down the slide. A family bath house is located adjacent to the feature pool.  The main pool ranges in depth from 3 and a half feet to 13 feet and has a one meter diving board as well as climbing walls in the diving well and 5 foot.
The pool is also handicap accessible. All these features and a highly trained, helpful staff makes the Albert Lea Family Aquatic Center one of the best aquatic facilities in the Southern Minnesota area and a great place to spend those hot days of summer!! Swimming lessons and special events are also offered at the Aquatic Center throughout the summer. Please take a look at the Parks and Recreation Department's Summer Brochure for a listing of activities, or call the Parks and Recreation Office at 377-4370 for more information on pool programs or email recreation@ci.albertlea.mn.us.
Public Swimming Hours
Hours: Mon-Fri 1:00-5:00 pm and 6:30-8:00 pm
Sat. & Sun. 1:00-7:00 pm
Daily Admission Fees: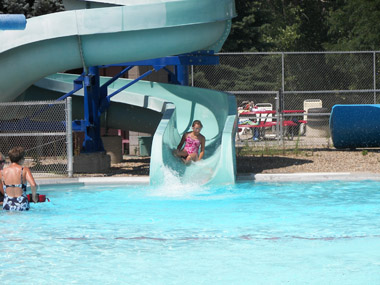 Kids 2 and under $1.25/each
Everyone $4.00/each
Non-swimmer $2.50/each
Nightime Admission Fees:
Everyone $2.00/each
Kids 2 and under $1.00/each
Season Pass Fees:
Family Season Pass: $120.00 + tax (includes 4 family members living in same household)
$20 + tax for each additional family member in the same household
Individual Season Pass: $65.00 + tax
Caretaker Season Pass: $35.00 + tax (must be a babysitter/nanny/PCA)
No Refunds
NO checks or credit cards accepted at the aquatic center
Please Note: Pool passes can only be purchased at the Recreation Office located at the City Arena
Deep Water Testing-Children 13 years and under are required to take a deep water test and upon successful completion, wear a wristband in order to swim in the deep-end (diving well) of the pool.  Ask a lifeguard/manager for more information.
Test includes: Swim 34 yards of recognizable front crawl while maintaining a horizontal position and arms coming out of the water (no doggie paddle).  Tread water for 30 seconds. Keeping head above water.
Group Rates: Group rates are available for non-profit organizations. Group rates are only available for use during regular open swim. Groups must pay with single check and make advance reservations for arrival times. Call the Recreation Office at 377-4370 for more information.
Come visit us at 321 James Avenue, Albert Lea, MN
Or call 507.373.3328