City proceeding with demo of two hazardous buildings downtown
The Albert Lea City Council voted July 11 declaring an order for demolishing the buildings at 332 and 324 S. Broadway Ave. These vacant buildings were in disrepair when the City acquired them through tax forfeiture.
Because the two buildings are in the historic downtown district, the City needs to work with the State Historic Preservation Office on their removal. After part of the back wall of 332 S. Broadway collapsed June 25, this state agency agreed that the buildings are a hazard and should be addressed promptly.
The two buildings share walls with the Vitality Center to the north and former Broadway Theater building to the south, putting the neighboring buildings at risk of structural damage. Some of the demolition would need to be done by hand to prevent damage to the common walls. The former theater building, at 338 Broadway, is owned by private individuals who are working with the city to assess the structural integrity of the building and repair its exterior. The Vitality Center, at 314 Broadway, is owned by the city, which rents office space to several tenants.
The city will remove the buildings as soon as safely possible. In the meantime, the City urges the public to stay out of the alley behind the building that runs from College Street to West Main Street.
After demolition, the long-term goal would be to sell the land for private development.
In the short term, the city is considering plans to improve the open space with a small park or a parking lot with landscaping. Both options would use exterior materials from the buildings to replicate some of the lost architectural features along Broadway. If a parking lot, vehicles would access it from the alley behind the remaining buildings. The goal would be to enhance the downtown and complement potential reuse of nearby properties.
For more information: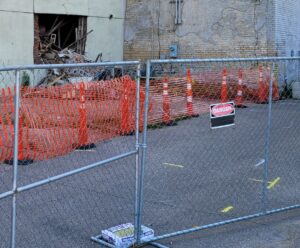 2Bids are being accepted until noon, Friday, August 12, for demolition. See details in the bid package:
For site access, call Development Services at 507-377-4340.